Get Your Spirit On
Join us Oct 17-23 for a fun-filled week of Homecoming favorites and new experiences sure to bring out the Triton spirit in you!
Learn More

Triton Tailgate

Featuring Cash'd Out
Sing along, stretch out and relax; eat, play games and catch up with fellow Tritons and friends. Best of all, it's free for the whole family.
Register Today

Grab Those Running Shoes
On Oct. 23, help us celebrate a very special Triton 5K with a new campus course and fun surprises along the way!
Register Now

TIME TO CELEBRATE!
Thanks to you, we have concluded the Campaign for UC San Diego with more than $3 billion raised. Help us celebrate this historic moment!
Join us in a city near you

Take a Triton to Work: Nov 14-18
Share your professional world with a student through a full- or partial-day workplace externship. It's a powerful way to positively impact the life of a fellow Triton.
Learn More
Previous
Next
Go Tritons!
As a UC San Diego graduate, you are automatically a part of the Alumni Association. No fees, no need to sign-up. All the perks. We're your resource to stay connected to the university and each other, to assist you as you grow professionally and inspire the next generation of alumni. 
UPCOMING SIGNATURE PROGRAMS
Sign Up Deadline: October 7, 2022
Externship Dates: November 14-18, 2022
Take a Triton to Work is a job shadowing (externship) program, allowing alumni to connect with students to explore career options in potential fields of interest.
October 17-23, 2022
UC San Diego
It's our fifth year! Join us on campus for a fun-filled week of events, celebration and school spirit. Cheer your team. Unite with friends. Dance the night away.
October-December 2022
DC | LA | NY | SF
Because of you, we have concluded the Campaign for UC San Diego with more than $3 billion raised. Join us as we celebrate this historic accomplishment at a region near you!
Alumni Events
From Signature Programs and campus experiences, to regional events closer to home, UC San Diego is available to you virtually and in-person, year-round. From innovative experiences and career development panels to cultural events — engaging alumni events are just a click away.
Volunteer Opportunities
Be Present. Be Involved. Be the Difference. As Tritons, we're a spirited, passionate bunch. We routinely make waves and push boundaries. Best of all, we make things happen. Pick your cause or join a group. Chances are, we've got just the right fit for you.
Find Your Club and Group
Your alumni community, 225,000 strong, is always close no matter where you live! Socialize or intellectualize—online or in-person—anytime, anywhere.
Let Us Help You Launch Your Career
UC San Diego is committed to supporting every Triton's career pursuits and professional mobility. By participating in career fairs, you will find outstanding job opportunities.
Let's Connect!
Tritons Connect is the newest tool to find and interact with your fellow alumni. Connect 1:1 or in groups, post and apply for job opportunities, get matched with a mentor, and so much more. Create your free account today!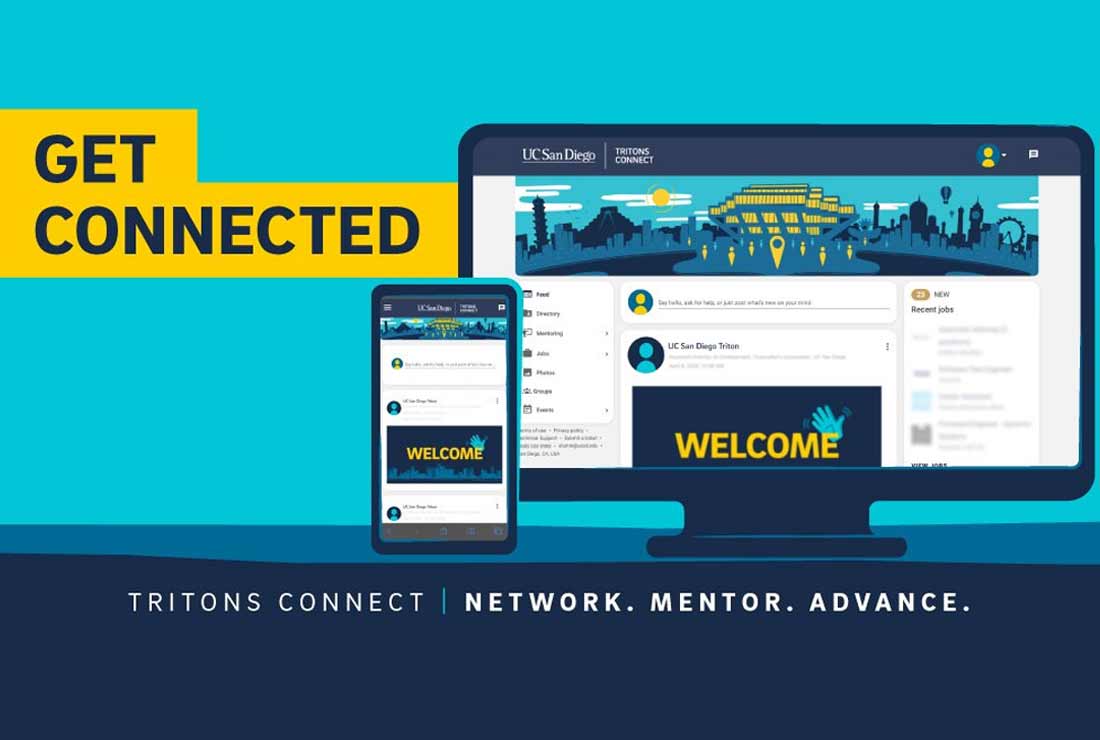 Read Your Alumni Magazine
Triton magazine is your connection to alumni across the globe, highlighting campus news and views, current research, academic achievements, profiles and feedback from our readers.