Triton Leaders Conference 2024: Speakers
Learn from thought leaders and alumni working in diverse fields within the health care landscape, as they share their expertise and offer new perspectives.
KEYNOTE SPEAKERS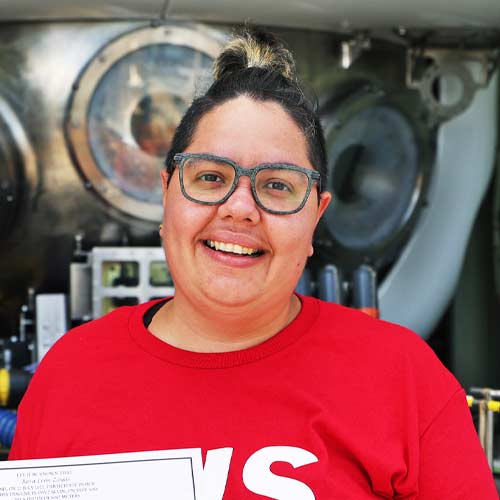 Rosa León Zayas
Program Director, National Science Foundation
Friday, February 2, 2024  | 12:30–1:00 p.m.
Rosa León Zayas is an environmental microbiologist who explores some of the most remote places on the planet. After receiving her bachelor's degree from the University of Puerto Rico, she studied the genomes of ultra deep-sea single-cell microbes at the Scripps Institution of Oceanography at UC San Diego, focusing her efforts on microbes from the Puerto Rico Trench and the Mariana Trench. During her postdoctoral work at the University of Delaware, she focused on studies of deep subsurface environments. As a tenured Associate Professor at Willamette University in Salem, Oregon, Zayas has built a collaborative research program that includes exploring complex problems such as exploring the microbial degradation of PET plastic, the biodegradation of hormones in fresh water systems, the metabolic complexities of subsurface and deep ocean trenches and, most recently, exploring climate driven changes in algae blooms. Currently, Zayas is a rotating Program Director at the National Science Foundation, within the Geoscience Directorate in the division of Research, Innovation, Synergy and Education (RISE) focused on furthering education and broadening participation within the geosciences.
Throughout her career, Zayas has been dedicated to educating the next generation of scientists by doing science — or in other words, by providing opportunities for undergraduate students from all backgrounds to experience the process of generating new knowledge. Zayas is also deeply committed to the advancement of groups traditionally underrepresented in STEM, and she's especially passionate about engaging members of the Puerto Rican, Hispanic and queer communities.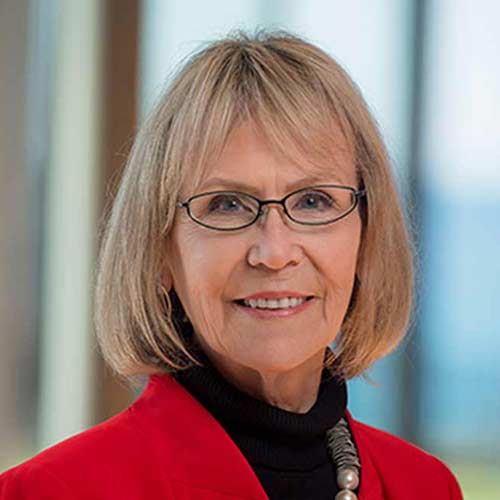 Margaret Leinen
Vice Chancellor and Dean, UC San Diego
Saturday, February 3, 2024  | 8:30–9:00 a.m.
Margaret Leinen was appointed the eleventh Director of Scripps Institution of Oceanography at UC San Diego in July 2013. She also serves as UC San Diego's Vice Chancellor for Marine Sciences and Dean of the School of Marine Sciences. She joined UC San Diego in October 2013.
Leinen is an award-winning oceanographer and distinguished national and international leader in ocean science, global climate and environmental issues. Her research in paleo-oceanography and paleo-climatology focuses on ocean sediments and their relationship to global biogeochemical cycles and the history of Earth's ocean and climate.
Leinen leads UC San Diego's ocean, earth, atmospheric and climate science research and education programs at Scripps Oceanography, the foremost environmental research institution addressing the pressing environmental problems facing our planet. Scripps Oceanography provides the knowledge necessary to address these challenges, teaches the next generation of science leaders and partners with government, non-profits and the private sector to translate knowledge to action.
Leinen enhances Scripps and UC San Diego through her impressive career in academic research and administration, federal research administration, and non-profit startups. She served for seven years at the National Science Foundation (NSF) as Assistant Director for Geosciences and Coordinator of Environmental Research and Education. During that time she also led government-wide planning for climate research through the US Global Change Research Program, and co-led government planning for ocean research. While at NSF, she presided over and directly influenced the development of some of the most consequential programs in marine, atmospheric, and earth science including EarthScope and the Ocean Observatories Initiative.
Prior to joining Scripps, she served as Vice Provost for Marine and Environmental Initiatives and Executive Director of Harbor Branch Oceanographic Institute, a unit of Florida Atlantic University. At the University of Rhode Island, she was Vice Provost for Marine and Environmental Programs and Dean of the Graduate School of Oceanography.
She is the founder and served as president of the Climate Response Fund, a non-profit organization that works to foster discussion of climate engineering research and to decrease the risk that these techniques might be called on or deployed before they are adequately understood and regulated. She also spent two years as the Chief Science Officer of Climos, Inc., a startup focused on green technology for climate mitigation.
Leinen currently serves as co-chair of the Decade Advisory Board for the UN Decade of Ocean Science for Sustainable Development and is a member of the distinguished Leadership Council of the Joint Ocean Commission Initiative. From 2016-2018 she served as a U.S. Science Envoy focusing on ocean science in Latin America, East Asia, and the Pacific. She has served as President of the American Geophysical Union, Chair of the Atmospheric and Hydrospheric Science Section of the American Academy for the Advancement of Science, and President of The Oceanography Society. She serves on the boards of the California Ocean Science Trust and Science Counts. She is the Vice Chair of the Research Board of the $500 million Gulf of Mexico Research Initiative.
Leinen is a Fellow of the American Association for the Advancement of Science, the Geological Society of America, the American Geophysical Union and The Oceanography Society. She was elected an Honorary Member of the American Meteorological Society. She has been awarded Distinguished Alumni Awards from all three universities she attended as a student: University of Illinois, Oregon State University, and University of Rhode Island. In 2020, she was elected to the American Academy of Arts and Sciences.
Leinen received her doctorate in oceanography from the University of Rhode Island (1980), her master's degree in geological oceanography from Oregon State University (1975), and her bachelor's degree in geology from the University of Illinois (1969).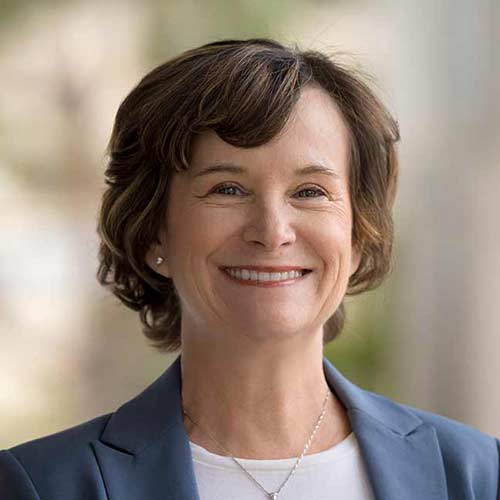 Caroline Freund
Author and Dean, UC San Diego
Saturday, February 3, 2024  | 12:30–1:00 p.m.
Dean of the UC San Diego School of Global Policy and Strategy, Caroline Freund is an expert in international trade and economic development.
Prior to joining GPS, she served as global director of Trade, Investment and Competitiveness at the World Bank. Freund also served as a senior fellow at the Peterson Institute for International Economics. In addition, she has worked as chief economist for the Middle East and North Africa at the World Bank, after working for nearly a decade in the international trade unit of the research department. Freund began her career in the international finance division of the Federal Reserve Board and spent a year visiting the research department of the IMF.
The author of "Rich People Poor Countries: The Rise of Emerging Market Tycoons and their Mega Firms," Freund was co-director of the World Bank's flagship World Development Report 2020 on Global Value Chains. She has also published many articles on the effects of regional trade agreements and edited a volume on "The WTO and Reciprocal Preferential Trading Agreements." Her work has appeared in academic journals, including: American Economic Review, Quarterly Journal of Economics, Review of Economics and Statistics, Journal of International Economics and Journal of Development Economics.
Freund was also a member of the EXIM Bank advisory committee from 2014-16, and the scientific committees of CEPII (Institute for Research of the International Economy, Paris) and the Economic Research Forum (Cairo). She is a member of the Centre for Economic Policy Research and on the editorial board of the Economics and Politics journal.
Freund holds a doctorate in economics from Columbia University (1997), and a bachelor's degree in mathematics and economics from Bowdoin College (1988).
DAY 1 SESSION SPEAKERS
Friday, February 2, 2024
DAY 2 SESSION SPEAKERS
Saturday, February 3, 2024
SESSIONS
Learn from thought leaders and alumni working in diverse fields within the health care landscape, as they share their expertise and offer new perspectives.
We hope that you will join us in upholding and promoting our Principles of Community in all UC San Diego events and keeping our community free from any and all forms of discrimination and harassment.
We strive to host inclusive, accessible events that enable all individuals, including individuals with disabilities, to engage fully. If you need further assistance, please contact us at alumni@ucsd.edu 48 hours prior to the date of the event.